Community
"We make a living by what we get; we make a life by what we give." - Sir Winston Churchill
Ho'omalu O Nā Kamali'i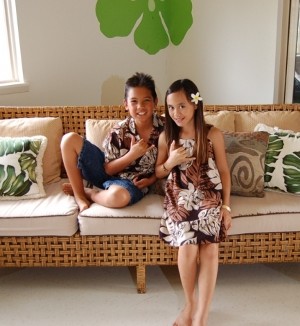 Ho'omalu O Nā Kamali'i , a receiving home for children entering the child welfare system which opened in April 2009. The Wood Family partnered with Family Programs Hawaii and The Hawaii Department of Human Services to build Ho'omalu O Nā Kamali'i, a 10 bedroom safe haven for abused and displaced children in Maili, Oahu.
The goal of the home is to keep children safe until they can be reunified with their parents, placed with appropriate kin or with culturally similar resource parents in their community. The home accommodates 15 children ages 4-17 and provides 24/7 staffing, access to social workers and other health professionals. Sibling groups are able to stay together in the home, greatly reducing the trauma of being removed from their home.
Mr. Wood has spent $1.2 million building the facility and pledged an additional $8 million over the next 20 years to help operate this shelter. His hope is that this home can be a safe, secure place where brothers and sisters can stay together and maintain as much stability as possible during their difficult transitions.
Community Pride & Hawaii Self Storage
Scholarship Program - Established in 2005, Hawaii Self Storage annually awards $4000 financial scholarships to high school students in our community. This program was designed to invest in our communities future leaders, by helping and supporting them financially to achieve their education goals.
Community Service - Hawaii Self Storage partners with many local charities and non-profit organizations by donating our services, resources, and organizing special events to raise funds and help support their causes. Ranging from garage sales to clean up projects we are actively involved with various organizations to help the community.
Lockers for Literacy - To promote youth literacy, HSS established Lockers for Literacy, a program which donates reading books for each 1st grader in our local elementary schools. With every new locker rental, HSS donates $2 from its profit to this fund. In partnership with READ TO ME INTERNATIONAL, our team members along with Mr. Safety read books and encourage students to read aloud everyday with their family.
Sponsorships - Hawaii Self Storage is a proud sponsor of various keiki teams in our community. From soccer teams to football leagues, we provide the resources to purchase uniforms and equipment to help encourage our keikis to participate in various athletic programs. HSS sponsors 2-3 teams per facility annually and applications are always accepted. Please contact us for more information.
B.R.I.D.G.E.
In addition to other community activities, MW Group has established a B.R.I.D.G.E. program.
B.R.I.D.G.E. is MW Group's employee run volunteer program, enabling each team member to connect with their own community passions.
MW Group donates $10 for each hour of community service a team member completes, up to an agreed upon maximum per year. Each team member's designated donation goes to the charity or organization of their choice. If there are any remaining funds it is contributed to a company wide pool to be distributed based on team members nominations.
Founded by Steve Sherwood of CWS Capital Partners LLC, B.R.I.D.G.E. is a program that encourages companies and employees to connect to one another and their community - building possibilities for personal, economic and civic improvement. We are proud of bringing B.R.I.D.G.E. to Hawaii. The B.R.I.D.G.E. program's values align perfectly with MW Group's values.
Breaking down barriers
Respect for others
Investing our resources
Dedication to the community
Giving of ourselves
Everyone makes a difference
We are currently searching for Hawaii based companies with the same values and commitment to the community to recommend to become a B.R.I.D.G.E. participating company.
---